Have you ever visited Strathearn Park and caught a glimpse of a curious structure that looks suspiciously like a tomb, tucked near the Library building, and wondered what exactly it is?  This structure is called The Hirschi or Dante-Irene Monument. It is technically a 'cenotaph,' which is a monument erected to a deceased person, whose remains lie elsewhere. It was moved to Strathearn Park from the vacant previous site of the Woman's Club in 1971 to save it from demolition.
What is the significance of this structure?  There is so much symbolism associated with the Monument that it becomes complicated to explain it all.
Dr. Hirschi was a geologist, hired by an oil company called the French Syndicate, who arrived in Simi in the early 1900s.  He and his wife, Irene, lived on the east side of Tapo Canyon between the current day Walnut and Presidio streets. According to Patterson Ranch records: lot 115, 487.20 A. "as conveyed by Charles B. McCoy to Alfred Hirschi on May 24, 1913." This likely dates the arrival of Dr. Hirschi and his wife Irene.
He and Irene gathered rocks from the Santa Susana mountains, and Irene arranged them into a rock garden in their backyard.  Irene died in 1933. In January 1934, Dr. Hirschi took in a stray dog named Barry. Barry dug in the backyard, removed some plants, and uncovered some of the rocks Irene had placed. In these newly exposed rock formations Dr. Hirschi began to see 'visions,' what he believed to be scenes and objects that represented passages in medieval poet Dante Alighieri's The Divine Comedy.  He was inspired to build a monument to his deceased wife and Dante. He asked the Woman's Club in Simi Valley, where Irene had been an active member, whether it could be erected on their property (which was in the part of our valley known as Community Center, on Church Street, just east of Simi Elementary, behind the current Cultural Arts Center). They agreed, expecting a fountain or a sculpted angel…imagine their surprise.  On Easter 1936 the Cenotaph was unveiled. It was a six foot high bronze monument which rested on a slab of Italian marble. It was surrounded by a wrought iron fence, which had metal chains on three sides. The large chains have 7, 9, and 10 links respectively, representing Inferno, Purgatorio, and Paradiso. There is a small metal door near the top of the monument that bears the inscription "The Divine Message" which opens to reveal several photos, including Irene, the Hirschi rock garden, Dr. Hirschi with his dog Barry, and Austrian singer Elisabeth Schumann.
It was Dr. Hirschi's wish that the cenotaph be illuminated and opened for public view every Easter.  Dr. Hirschi produced complex booklets (which can be seen below) explaining his vision and message. His wish did not come to fruition.  Most individuals were baffled by his vision. The cenotaph was largely forgotten, except by the students at the nearby Simi Elementary and Simi Valley High schools, who viewed it with eerie suspicion.
It now sits at Strathearn Park, a bit hidden away, but the object of intense curiosity for some.  We've had students visit us who were studying the works of Dante, and wanted to take a look at the Monument and the associated documents in our collection. 
The door which opens to reveal 'The Divine message' still opens, though the photographs within are no longer illuminated..
Next time you visit Strathearn Park take a look at this most interesting tribute and artifact.
Current photos of the Monument.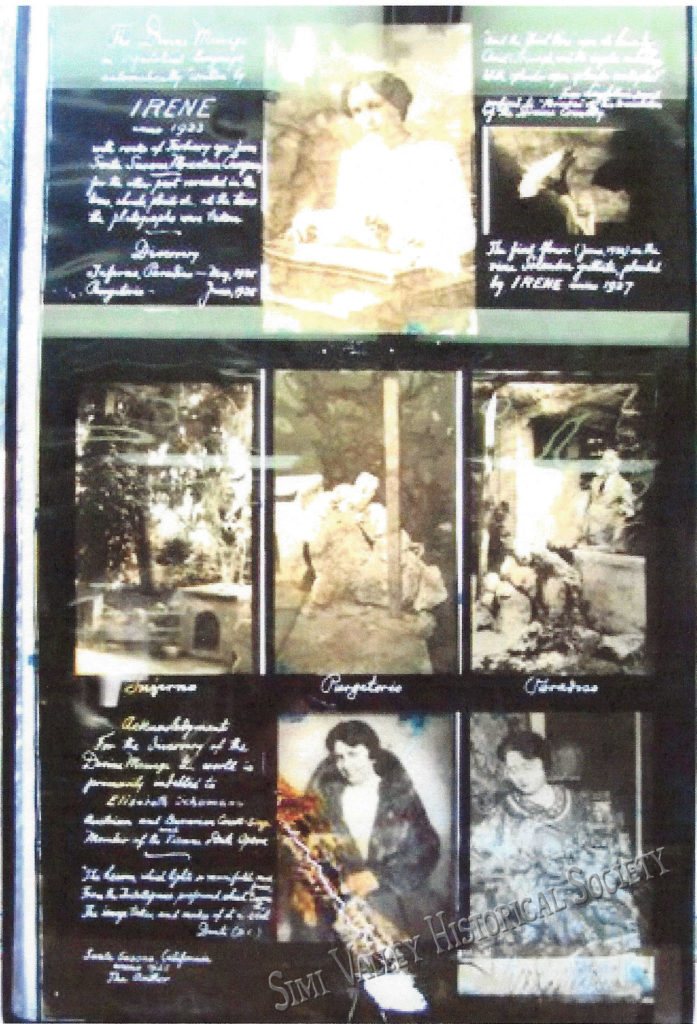 A view of the interior of the Monument when the photographs within were illuminated.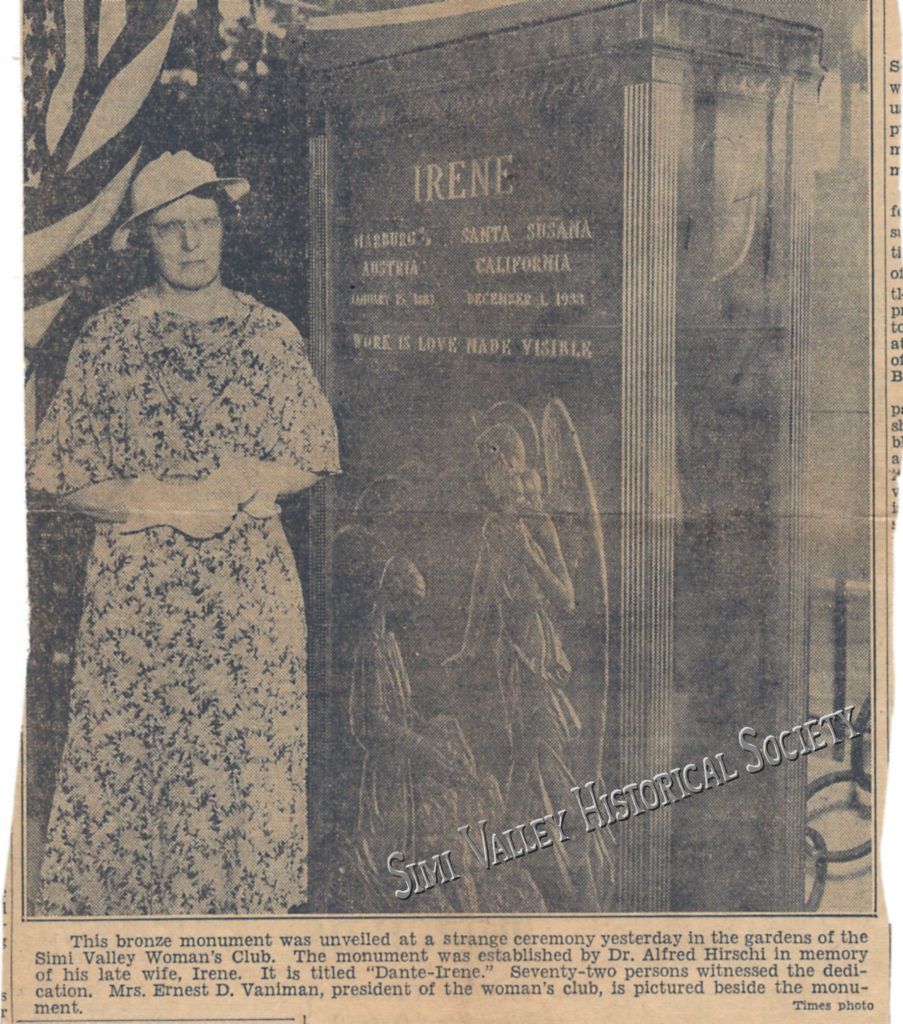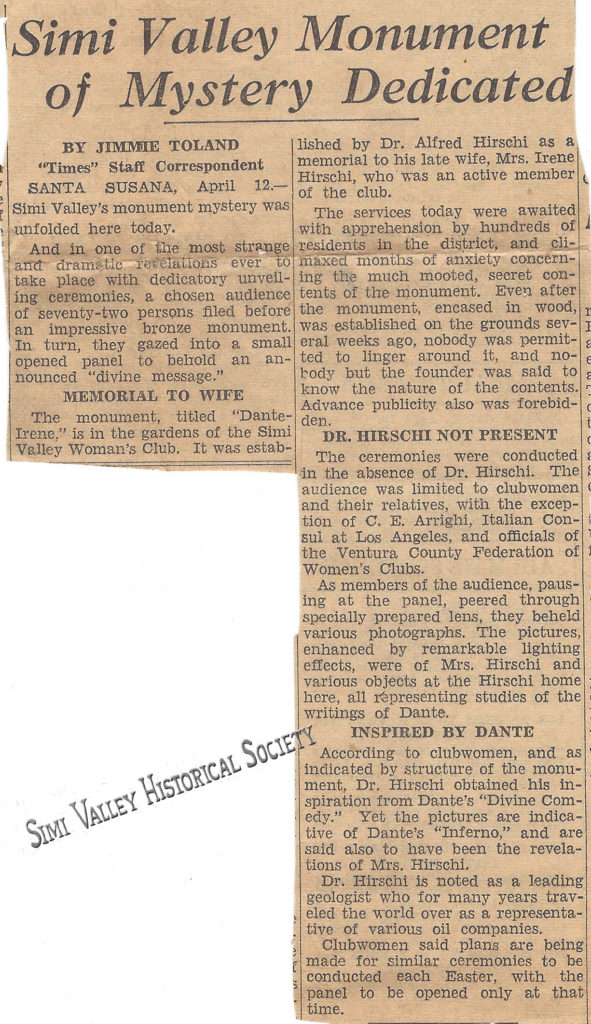 A newspaper article from April 13, 1936, when the Monument was unveiled.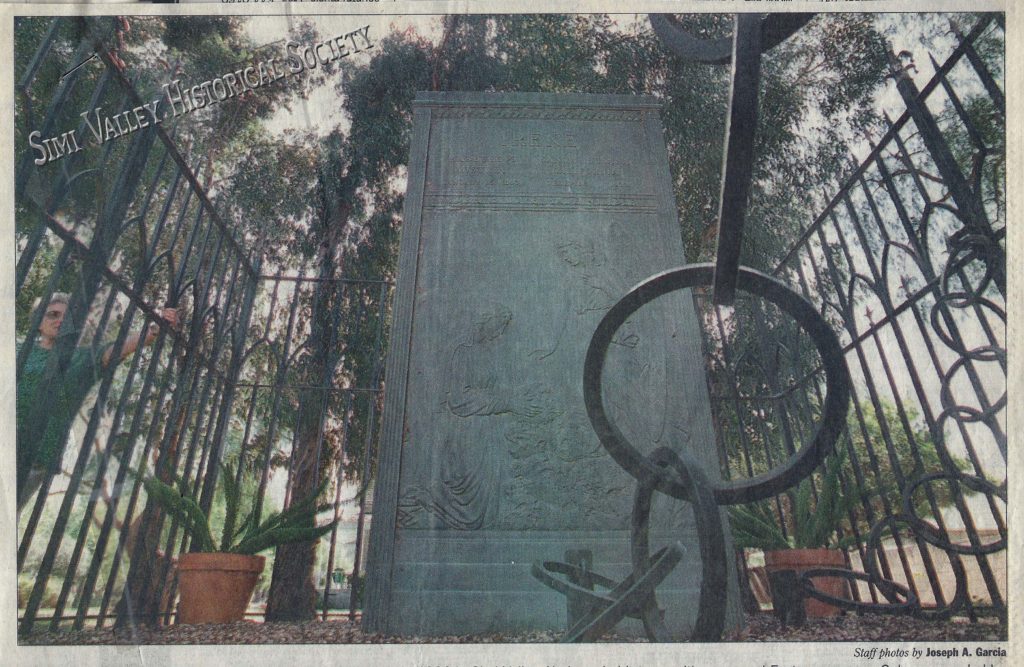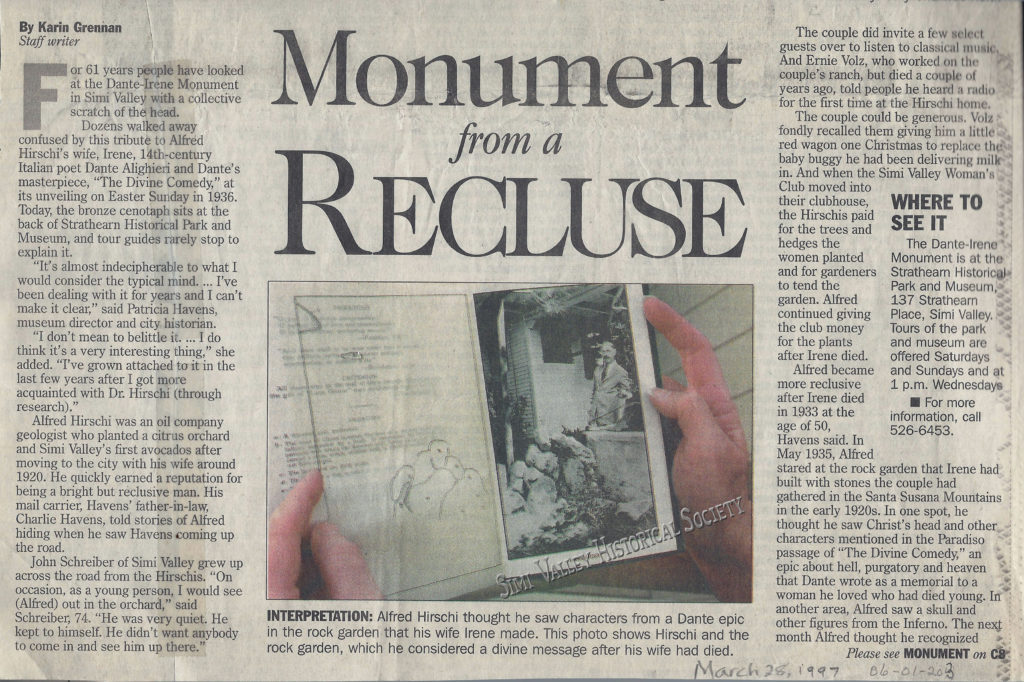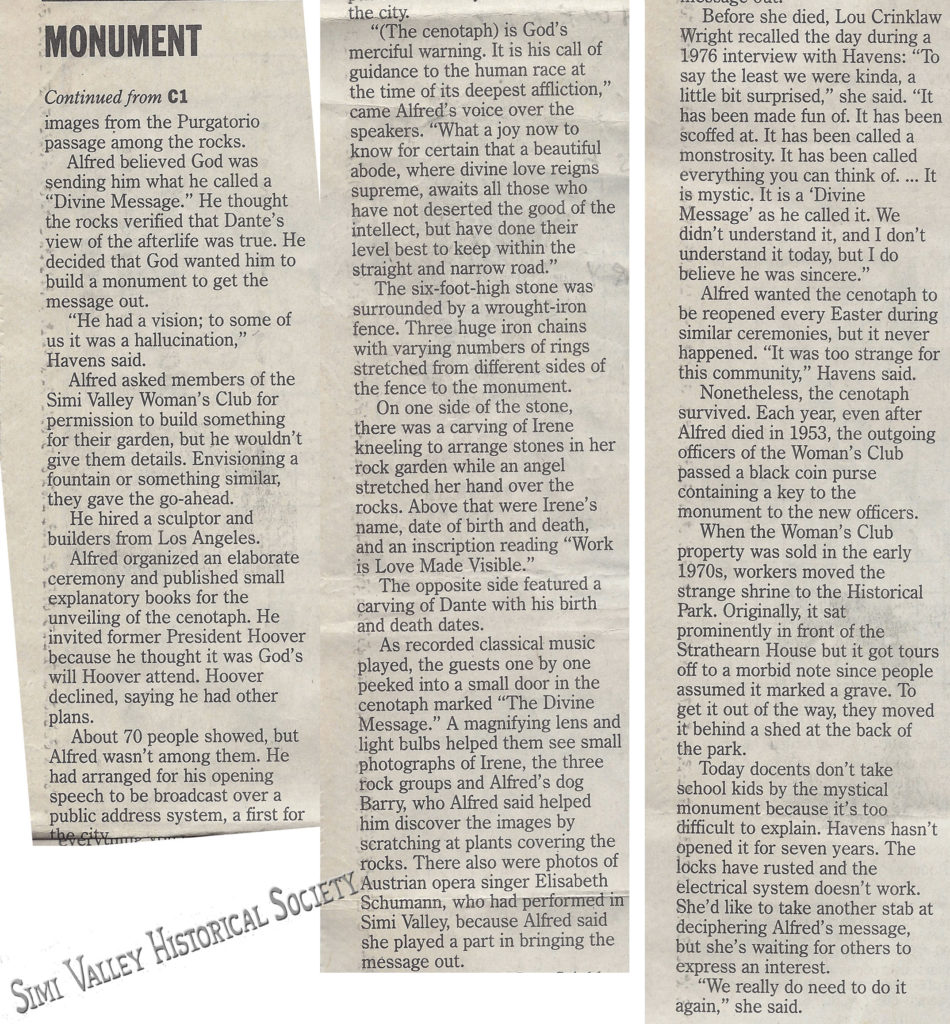 A newspaper article from  the LA Times, Monument from a Recluse- March-3-25-1997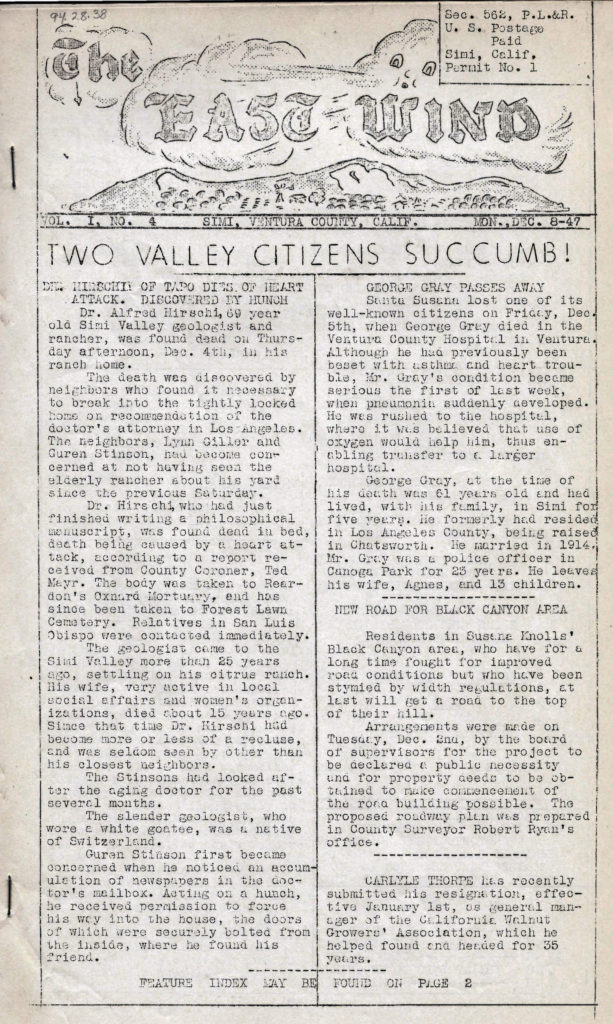 Dr. Hirschi passed away in December 1947.  His obituary from The East Wind newspaper is above.
Anthony Real recounts: "It was my brother Hector and I who mentioned his absence to my dad who contacted Burt Stevens the sheriff at the time.  After the grim discovery, Dr. Hirschi's brother arrived from Switzerland and stayed for about a month. Among the mementos he gave us was a picture of his wife, Irene."  The photo of Irene is below.  "Dr Hirschi's remains were consigned to Forest Lawn in Glendale. When we inquired, we were told that his remains were scattered over the Grand Canyon."