'On the Tapo' is Here!
On the Tapo has arrived! Books can be purchased for $29.95 + tax during business hours at Strathearn Park (Monday – Friday 9am-3pm) and Saturdays and Sundays from 1pm-4pm.
If you are not local and would like to purchase a book and have it shipped to you, please sent an email to StrathearnPark@gmail.com with the number of books you'd like to purchase, your name, address and phone number.  The total cost for books to be shipped is $38.  We will call you for credit card payment information at a time you indicate is convenient.
If you'd like to pay by check, mail a check for $38 per book to Strathearn Park, P.O. Box 940461, Simi Valley, CA 93094-0461.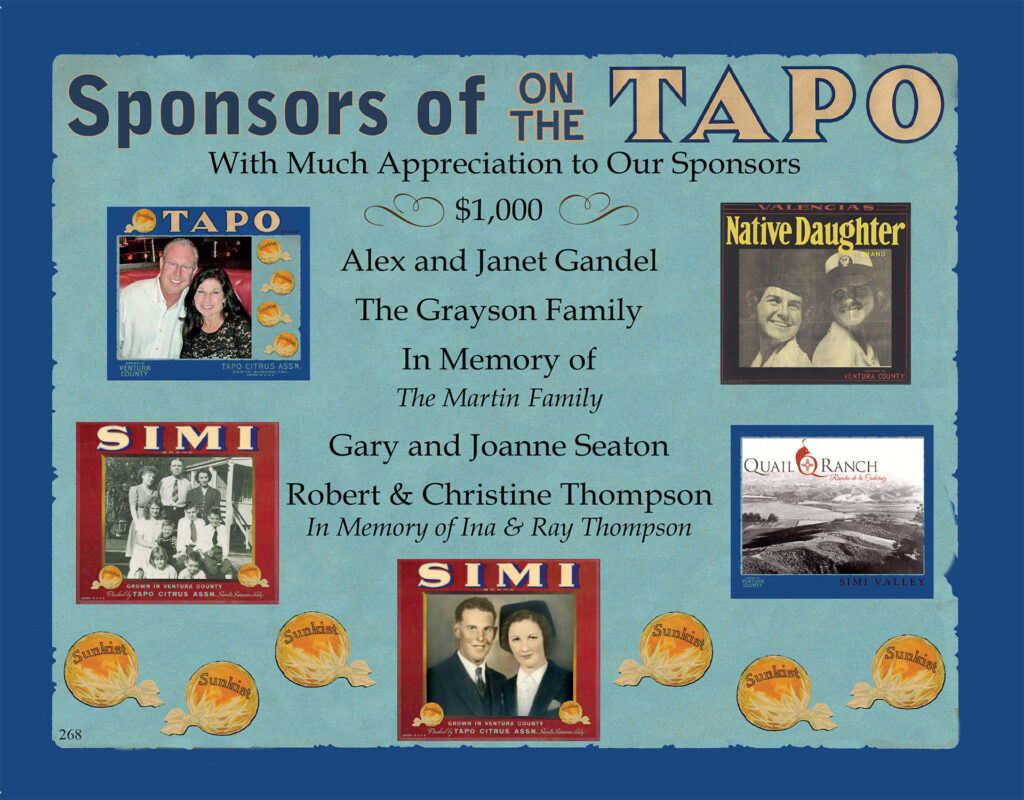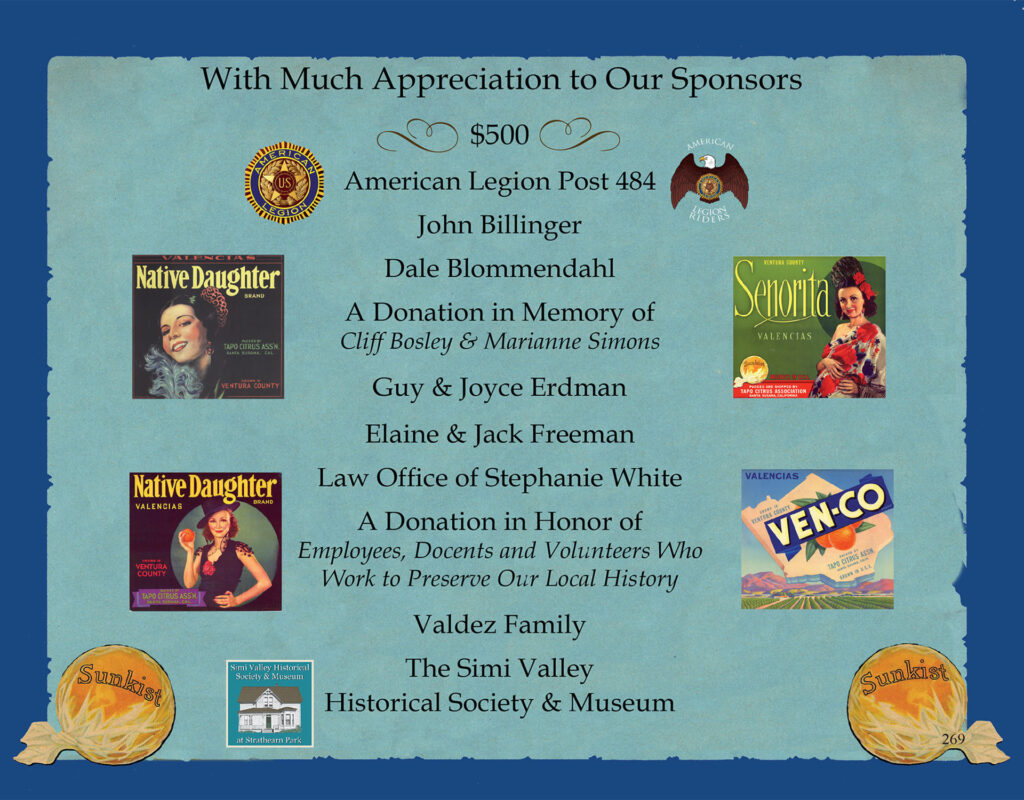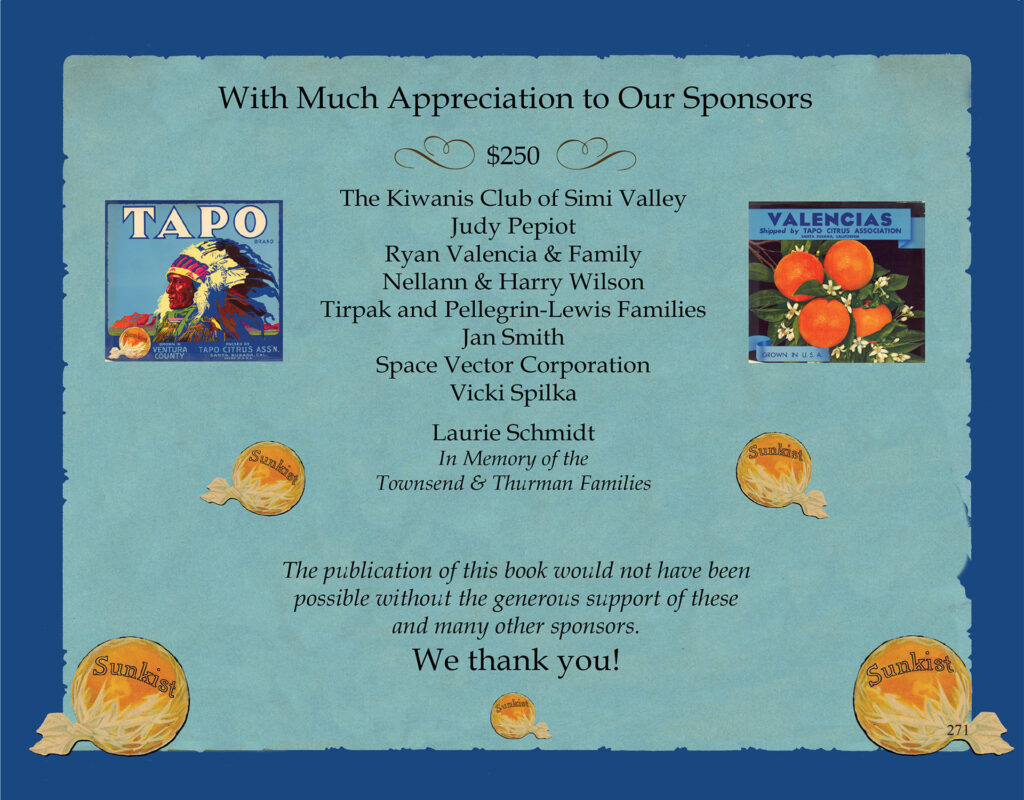 'On the Tapo' is Here!
The Simi Valley Historical Society has been working towards publishing this book for quite some time. For several years now, Pat Havens combed through the wealth of information on the topic of the Tapo in the files at the Strathearn Park museum, and writing about what was Simí Valley's finest agricultural development. A couple hundred photographs have been compiled which illustrate and document Simí Valley in the agricultural era. The result is a 260 page book titled On the Tapo, Simi Valley's Finest Agricultural Development.
On the Tapo recalls Simí Valley in the agricultural era. It must be difficult for newcomers and younger residents to imagine that not too long ago, agriculture was the most important industry in Simí Valley. Before the housing subdivision boom, groves dominated the Simí Valley landscape. There were orchards which produced apricots, walnuts and oranges, and ranches that produced beets and barley. The Tapo Citrus Association and the Tapo District were the epitome of agriculture in Simí.
Author Patricia Havens remembers when it was apricot harvesting time. Almost everyone in the valley would stop what they were doing, work in the apricot pitting sheds until the harvest and processing was done, and then go back to their regular business. Patricia worked in the pitting sheds, as well as in the Tapo Citrus packing house located in Santa Susana, individually wrapping each orange in a square of tissue paper, before it was packed in a crate.
On the Tapo tells the story of the Tapo Rancho and the Tapo District through photographs, personal accounts, and documents obtained from the Tapo Mutual Water Company and the Tapo Citrus Association. The Tapo Rancho flourished for several decades of the 1800s before pioneers arrived in the valley. Its modern agricultural history, by way of the Tapo Mutual Water Company, lasted fifty years. This book invites you to go back to when the valley of Simí was dotted with orchards and ranches, and visit the area that was known as "the Tapo."
We look forward to sharing this book with you very soon!!